Help! Why is the small print so blurry?
Many of my patients have  no eye complaints until they turn age 45.  A common problem is how blurry small print has become.
Many people get alarmed and wonder if they have some new eye diseases. Most often, the development of blurry near vision is simple presbyopia. Presbyopia means that the lens can no longer accommodate at near. As the lenses ages, it become more brittle, less pliable. Also, the ciliary muscle that enables the lens to change shape or accommodate at near gets weaker.  If small print becomes clearer as it is held further away, then the cause is simple presbyopia.
Prebyopia can easily be corrected with use of reading glasses. For patients with distance glasses already, a progressive lens or bifocal is an option.  For patients with contact lenses, bifocal contacts are one option. Another option is monovision contacts. With monovision, the dominant eye is usually corrected for distance while the non- dominant eye is corrected for near. If only reading glasses are needed, a near vision contact can be considered in one eye.
Surgical options to help with near vision include LASIK, conductive keratoplasty, and refractive lensectomy.
If none of these options are appealing, take comfort. One of the biggest areas of research in opthhalmology is how to correct presbyopia.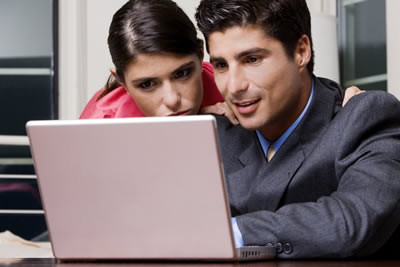 News From the Optical Shop

We have added some great new lines to our optical shop. Come in and see the latest fashions from Bebe, Nine West, Diane Von Furstenberg.

With the long days of spring and summer, it is important to protect your  eyes from the sun as well as drive safely with the solar glare.

Polarized Prescription sunglasses give great vision and protection!

BUY ONE  FULL PAIR  of GLASSES ,

SAVE 30% on SECOND PAIR  of Prescription Sunglasses or

Save 20% on a Single pair of Prescription Sunglasses.

Philip Meuse

Optician

Offer good until May 31, 2012. Pairs must include lens and frame. No insurance or vision plan discounts apply.
New Patient Portal

Keamy Eye & Laser Centre continues to implement our new EMR. The latest feature is the patient portal that lets you see your diagnosis.To access the patient portal, you must register online at

www.myeyecarerecords.com .  The default password is 1234 , which you will change when you register.  You will need to give our office some additional information on your next visit or over the phone for us to activate the portal in your account.

We understand that some of you may not want to participate in the portal, but we want you to know it is an option available for you.
Spring PROMOTION !

Refresh, Renew, & Revitalize Your Look before summer!

For every $500 spent on filler (Radiesse, Juvederm, Restylane), Botox, or Medical Grade Skincare

SAVE $100.

* Offers good through April 30, 2012 . Cannot be combined with other promotions.
Recipe: Kale Chips!

Many of you ask me what to eat for eye health.  Kale is one of those power packed foods.

Kale is a cruciferous vegetable that is very high in anti oxidants, lutein, vitamins C, A, & K.

This is not my original recipe. My neighbor Amy M. introduced this to me.

bunch of flat kale
olive oil
sea salt

Directions:

Wash and pat dry kale leaves. Tear into size of a potato chip. Place on pan lined with parchment paper. Drizzle olive oil over kale.  Cook at 400 degrees for about 15 minutes. Careful to cook until crisp but not burnt.
Season with sea salt.
Lutein & Zeotxanthin  play important roles in eye health. They are helpful in preventing macular degeneration and even cataracts. The recommended dose is 4-8 mg day.

Since they are such a powerhouse, I thought it would be helpful for many of you to know what foods contain them. Listed in order of abundance.

* Kale

*Spinach ( cooked)

*Collards

*Peas

* Broccoli

*Papaya

* Egg

* Orange
Make sure to schedule your annual eye  exam. Call the office at (508) 836-USEE (8733) . 

We look forward to seeing you soon!
Sincerely,
Jean Keamy, MD
Keamy Eye & Laser Centre