Archive for the 'Newsletters' Category
Monday, May 6th, 2013
Special Spring Savings at KEAMY EYE & LASER CENTRE
Celebrating You this Spring!
Get full correction of your lines and folds with Radiesse and Belotero Balance.  Buy two full price 1.5 ml Radiesse vials and  get 1 Belotero Balance vial for free for same day injection from now through June 1, 2013.* Radiesse is great to give the face a lift and to eliminate deep lines. Belotero Balance is ideal for reducing bags under eyes, fine lines & enhancing lips. Treat yourself because you deserve it!
Get Happy not Mad with Xeomin.
Xeomin, a purified form of botox, from makers of Radiesse, can eliminate your frown lines, forehead lines, and crows feet. Look more relaxed and rested for Spring.  For every 20 units purchased, receive 10 units at 1/2 price from now through June 1, 2013* for same day injection.
Call 508-836-8733 today!
Save $1000 on Bilateral LASIK

Lasik is a great gift for Mother's Day, Father's Day or Graduation!  Consider LASIK

this Spring at Keamy Eye & Laser Centre. 508-836-8733

L

Offer Expires: June 30,2013
and cannot be combined with any other offers or discounts
Tuesday, October 16th, 2012
Why do I need a dilated medical eye exam?
Many of my patients have  no eye complaints and only need glasses or nothing at all.  Through an un-dilated pupil, I can get a good view of the optic nerve, blood vessels and macula.  The peripheral retina  and optic nerve details cannot be thoroughly examined without dilation.
Some patients have family history, medical issues,complaints or concerns that require
dilation of the pupil for a thorough eye exam.  Most commonly any history or current complaint of floaters or flashing lights makes a dilated exam necessary.  Those symptoms can be  warning signs of  a retinal hole, tear or retinal detachment.  The peripheral retina must be examined carefully.
Any family history of glaucoma or high pressures in the eyes requires an examination of how large the optic nerve cup and a thorough examination of the optic nerve's nerve fiber layer.  Such an exam can only be performed with dilation.
Macular degeneration can present as very subtle changes in the macula. It is recommended that if macular degeneration runs in one's family, or patients are over 55, they should have at least one dilated exam every year or two.
Hypertension and diabetes can affect the blood vessels in the retina. Anyone with these disease should have an annual dilated exam to look for abnormal blood vessel growth,  blood vessel leakage, and retinal swelling.
Cataracts are extremely common in patients over 60.  Since there are several types of cataracts, the subtle changes in cataract development can only be observed with a dilated eye exam.
I realize that dilation of the pupils is inconvenient. The exam takes longer because the drops need 20-30 minutes to work. Afterwards, they can make both distance and near vision blurry for several hours.  Many people prefer to bring a driver for these exams.
New Patient Portal

If you want to access  our patient portal make sure to update your information with our front desk so we can activate your portal accoun

t. 

The  patient portal  lets you see your diagnosi

s. To access

the patient portal, you must register online at

www.myeyecarerecords.com

.  The default password is 1234 , which you will change when you register.

We understand that some of you may not want to participate in the portal, but we want you to know it is an option available for you.
FALL SKIN CARE PROMOTION!

SAVE 50% on Silk Peel Vitamin C Dermalinfusion or

Obagi Blue Radiance Peel!

Both are a great complement to any Botox or Dermal Filler Treament

Only $75 per treatment (regularly $150)


Make your skin clearer, hydrated, brighter, smoother!

Ask Dr. Keamy what the best procedure is for you.

* Offer good through December 15, 2012
Recipe: Pumpkin  Sweet Potato Soup!

With Halloween and Thanksgiving around the corner, pumpkins are abundant. Many of you may not have known that the pumpkin is a power house filled with the 

antioxidants and vitamins: beta-carotene, lutein, zea-xanthin, potassium, Vitamin A, Vitamin C, Vitamin E,  Magnesium, and zinc. All are excellent for eye health!

1 small pumpkin
2 medium sweet potatoes
2 carrots
1 medium white onion
thyme
cinnamon
olive oil
kosher salt
pepper
water or vegetable or chicken stock

Directions:

Wash and peel all vegetables. Cut pumpkin and sweet potatoes into 1 inch cubes. Toss with 1 tablespoon of olive oil. Roast for 1 hour at 400 degrees. Stir frequently.
Peel and chop onion and carrot. Saute with 1 tablespoon olive oil until brown and tender.
Put 5 cups of water or stock in deep pan. Add pumpkin, sweet potatoes, carrots, and onion.
Add 1 teaspoon of cinnamon and 1 teaspoon of fresh thyme.
Simmer for about an hour until all vegetables are soft.
Puree  with hand help blender.
Salt and pepper to taste.
Make sure to schedule your annual eye  exam. Call the office at (508) 836-USEE (8733) . 

We look forward to seeing you soon!
Sincerely,

Jean Keamy, MD
Keamy Eye & Laser Centre
508-836-8733
Friday, July 20th, 2012
Woman who are taking drugs to prevent bone-thinning osteoporosis should be aware that they may be at increased risk for developing serious inflammatory eye disease.  Researchers have found that women taking bisphosphonates for the first time had a 45 percent increased risk of developing uveitis and scleritis. (Uveitis is inflammation of the middle layer of the eye, and scleritis is inflammation of the outer wall of the eye.) Although rare, some cases may result in blindness, but prompt medical treatment may reverse the blinding symptoms once the women stop taking the drugs. While bisphosphonates are generally safe, patients with previous histories of inflammatory eye disease or new symptoms should be quick to take action.
P.S. Symptoms of uveitis and scleritis include blurred vision, eye redness, eye pain, sensitivity to light, and dark spots in the field of vision.
Wednesday, March 28th, 2012
Help! Why is the small print so blurry?
Many of my patients have  no eye complaints until they turn age 45.  A common problem is how blurry small print has become.
Many people get alarmed and wonder if they have some new eye diseases. Most often, the development of blurry near vision is simple presbyopia. Presbyopia means that the lens can no longer accommodate at near. As the lenses ages, it become more brittle, less pliable. Also, the ciliary muscle that enables the lens to change shape or accommodate at near gets weaker.  If small print becomes clearer as it is held further away, then the cause is simple presbyopia.
Prebyopia can easily be corrected with use of reading glasses. For patients with distance glasses already, a progressive lens or bifocal is an option.  For patients with contact lenses, bifocal contacts are one option. Another option is monovision contacts. With monovision, the dominant eye is usually corrected for distance while the non- dominant eye is corrected for near. If only reading glasses are needed, a near vision contact can be considered in one eye.
Surgical options to help with near vision include LASIK, conductive keratoplasty, and refractive lensectomy.
If none of these options are appealing, take comfort. One of the biggest areas of research in opthhalmology is how to correct presbyopia.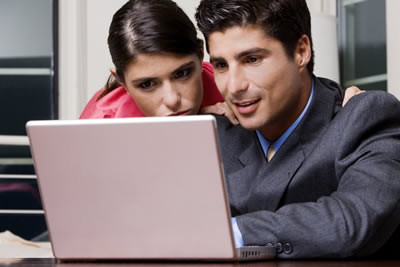 News From the Optical Shop

We have added some great new lines to our optical shop. Come in and see the latest fashions from Bebe, Nine West, Diane Von Furstenberg.

With the long days of spring and summer, it is important to protect your  eyes from the sun as well as drive safely with the solar glare.

Polarized Prescription sunglasses give great vision and protection!

BUY ONE  FULL PAIR  of GLASSES ,

SAVE 30% on SECOND PAIR  of Prescription Sunglasses or

Save 20% on a Single pair of Prescription Sunglasses.

Philip Meuse

Optician

Offer good until May 31, 2012. Pairs must include lens and frame. No insurance or vision plan discounts apply.
New Patient Portal

Keamy Eye & Laser Centre continues to implement our new EMR. The latest feature is the patient portal that lets you see your diagnosis.To access the patient portal, you must register online at

www.myeyecarerecords.com .  The default password is 1234 , which you will change when you register.  You will need to give our office some additional information on your next visit or over the phone for us to activate the portal in your account.

We understand that some of you may not want to participate in the portal, but we want you to know it is an option available for you.
Spring PROMOTION !

Refresh, Renew, & Revitalize Your Look before summer!

For every $500 spent on filler (Radiesse, Juvederm, Restylane), Botox, or Obagi skincare

SAVE $100.

* Offers good through April 30, 2012 . Cannot be combined with other promotions.
Recipe: Kale Chips!

Many of you ask me what to eat for eye health.  Kale is one of those power packed foods.

Kale is a cruciferous vegetable that is very high in anti oxidants, lutein, vitamins C, A, & K.

This is not my original recipe. My neighbor Amy M. introduced this to me.

bunch of flat kale
olive oil
sea salt

Directions:

Wash and pat dry kale leaves. Tear into size of a potato chip. Place on pan lined with parchment paper. Drizzle olive oil over kale.  Cook at 400 degrees for about 15 minutes. Careful to cook until crisp but not burnt.
Season with sea salt.
Lutein & Zeotxanthin  play important roles in eye health. They are helpful in preventing macular degeneration and even cataracts. The recommended dose is 4-8 mg day.

Since they are such a powerhouse, I thought it would be helpful for many of you to know what foods contain them. Listed in order of abundance.

* Kale

*Spinach ( cooked)

*Collards

*Peas

* Broccoli

*Papaya

* Egg

* Orange
Make sure to schedule your annual eye  exam. Call the office at (508) 836-USEE (8733) . 

We look forward to seeing you soon!
Sincerely,

Jean Keamy, MD
Keamy Eye & Laser Centre
508-836-8733
Wednesday, September 21st, 2011
24 Lyman Street - Suite 130, Westborough, MA 01581 | (508) 836-USEE (8733)

Greetings!

It's hard to believe it's already fall.   Keamy Eye & Laser Centre just celebrated our 7th anniversary.   We are excited to share a number of important news items with you.


Make sure that you schedule your annual eye care exam. Call the office at (508) 836-USEE (8733) to come see us soon.

Dr. Keamy Offers Premium Cataract Lenses

Many of our patients came to us initially because they were interested in getting rid of glasses with refractive surgery.
If they had any trace of a cataract, they were not candidates for LASIK.  As their cataracts have grown, the advances in cataract surgery have grown, too.

Four years ago, Dr. Keamy began offering multifocal and toric lens implants. In the past year, more patients have elected to have these premium lenses inserted at the time of cataract surgery.

In traditional cataract surgery, the cataract or cloudy lens is removed surgically. Basic cataract surgery replaces the naturual  lens with a plastic monofocal lens. The monofocal lens does not correct astigmatism; however, it can make a patient see clearer at either near or far but not at both distances.


A premium toric lens can correct an astigmatism for clearer vision at either distance or up close.  A premium multifocal lens can correct vision for both distance and up close.  The toric multifocal lens has not yet been approved by the FDA. In the meantime, Dr Keamy can perform a limbal relaxing incisions in the cornea to reduce the astigmatism when a  multifocal lens is inserted in the eye.

Now many of my cataract patients can see even better than ever given the new technology.  We are very pleased to offer these lenses to our patients at Keamy Eye & Laser Centre.


News From the Optical Shop

Our selection of frames has grown tremendously in the past 18 months.  This fall we have a fabulous offer on glasses.

BUY ONE  FULL PAIR  of GLASSES ,

SAVE 50% on SECOND PAIR *!

Philip Meuse

Optician

Offer good until December 21, 2011. Discount applies to less expensive pair of glasses. Pairs must include lens and frame. No insurance or vision plan discounts apply.

New Electronic Medical Records

Keamy Eye & Laser Centre has implemented our new EMR this fall for all our patients. We are very excited with our system.  It will allow us to link our camera, OCT, and visual field machine to each record. Dr. Keamy will be able to show you during the exam the results of your tests. It also enables us to send information to your referring physician in a very timely manner with a few clicks on the computer.  With new technology, there is always some growing pains.   We need all of our patients to update their medical records.   New forms will be available on our website. We appreciate your understanding and patience.

FALL PROMOTION & EVENTS

Refresh, Renew, & Revitalize Your Look!

Get a free Sample of LATISSE*

($120 value)

with any combined treatment of  Botox & Juvederm*

&

Stay tuned for

Holiday Open House/Event

Wednesday, November 30th, 3-7pm

Keamy Eye & Laser Centre

Details to follow.

* Offers good through November 29, 2011 while supply lasts.  Must purchase minimum 20 units botox cosmetic  and one vial of Juvederm for same day use. Cannot be combined with other promotions.

Dr. Keamy's Morning Smoothie!

A morning smoothie is a great way to start your day and get many of the vitamins and minerals essential to good health. It is known to be high in Vitamin E,   potassium, omega fatty acids, and calcium.

2 bananas
3 cups of almond milk
2 scoops vanilla whey protein
1/2 cup fresh pineapple
4 teaspoons of Barleens pina colada flavored liquid Fish Oil
Ice

Directions:

Blend all ingredients in Blender. Serve immediately. Makes two 16 ounce servings.

Benefits of Fish Oil

Fish Oil is a supplement high in omega 3 fatty acids. It has many benefits to the eyes and body.

Since it is such a powerhouse, I thought it would be helpful for many of you to know the many benefits of fish oil.

* Helps with Dry Eyes

*Reduces Eyelid Blepharitis

*Helps prevent Macular Degeneration

*Reduces Cholesterol

* Maintains a Healthy Heart

*Reduces Joint Inflammation

* Decreases Depression

* Improves Mental Focus

We look forward to seeing you soon!

Sincerely,


Dr. Jean Keamy

Keamy Eye & Laser Centre
Sunday, February 6th, 2011
24 Lyman Street - Suite 130, Westborough, MA 01581 | (508) 836-USEE (8733)




This winter may seem endless, and Keamy Eye & Laser Centre is counting the weeks until Spring. We are excited to share a number of important news items with you.


Did the winter storms make you put off your appointments? Head into the spring with a fresh view or a fresh look. Call the office at (508) 836-USEE (8733) to come see us soon.

 

We look forward to seeing you soon!

Sincerely,


Dr. Jean Keamy

Keamy Eye & Laser Centre